I love my new Series+ Violin! It's fun to play and pluck - as I often do.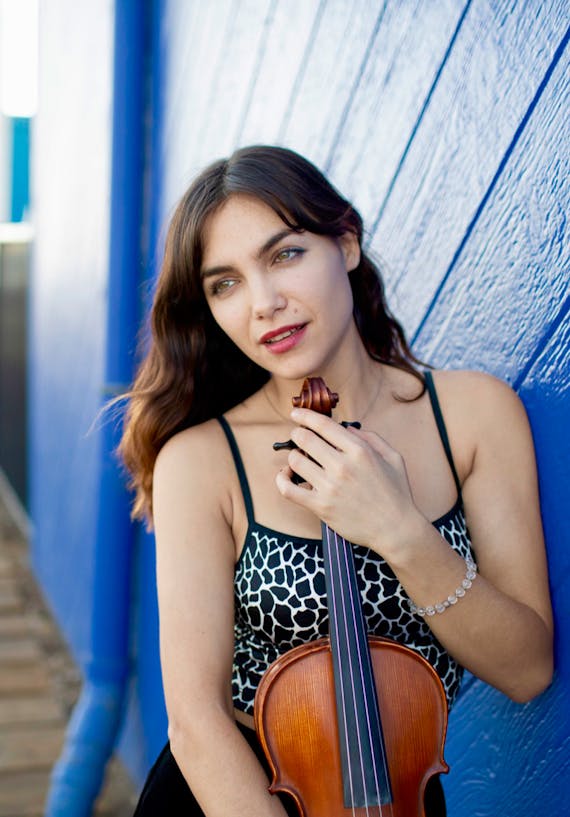 Ada Pasternak
Pop Violinist
Revealed through original songs that are intimate, evocative and compelling, Ada Pasternak is a strikingly modern singer-songwriter and violinist who propels an instrument from the 16th Century into the future. As she takes the stage with violin in hand, audiences expecting a traditional approach instead witness Ada as she plucks, strums, and creates a vibrant counterpart to her beguiling vocals and consummate musicianship.

Born in Moscow, Ada came to the U.S. with her family when she was six years old. With musician parents, her childhood was steeped in classical music as she developed into a virtuoso violinist, winning competitions as a soloist and earning standing ovations from audiences of 2,000+. Her life and career were dramatically altered when severe tendinitis and overuse made playing the instrument impossible. For two years, she lived as a normal teenager, not knowing if music would ever be a part of her life again.

She discovered Berklee College of Music, and at the last possible moment submitted an application. As she slowly picked up the violin and prepared one of her favorite pieces to perform at the audition, it was as if she had never stopped playing. After her father drove her to Boston and accompanied her on piano, to her amazement she was awarded the school's highest honor; A Presidential Scholarship (a full ride)

At Berklee, Ada was intrigued by the diversity of students and styles of music. "It was so fascinating to see all of these young, curious musicians from all over the world coming together to make music and learn," she relates. Through playing with such an eclektic group of musicians, Ada absorbed a variety of genres such as Pop, Jazz, Bluegrass, and even joined a Mariachi band.

One day, sitting on the floor of a Berklee practice room studying a jazz standard, she held her violin in her lap and began strumming and plucking it like a guitar. "I had never thought about playing the violin like that, especially while singing," she says. "It just felt so natural, and I was excited that I could accompany myself."

After the breakup of her first serious romance, the songs came pouring out. "On a sunny day in Boston I woke up one morning in my dorm room, looked out the window toward the sun and sang, 'It's a beautiful day even though my heart is broken/It's a beautiful day even though you're not here.' This was the first time that I sang my own lyrics and melody, and it was such a revelation. It became my first song titled 'Why I Let You Go.' The next day I wrote another song, 'Still in Love.' It was very therapeutic -- after writing these two songs, I was healed and ready to move on."

After college, Ada lived in New York City, performing her original music at venues such as The Bitter End and Rockwood Music Hall. She also took acting classes to enhance her life and art

Having lived most of her life on the east coast, Ada never considered living in California. Cast to appear on camera in two videos for Scott Bradlee's Postmodern Jukebox, she traveled to the west coast where she fell in love with Los Angeles. Relocating was a logical decision, she says. "I knew it was a great place for music and creativity. Since living here I've been writing more songs, collaborating more, and I feel at home -- I love the people and the environment." With her superlative musical chops and charismatic energy as calling cards, she stepped into a dynamic creative community where the most accomplished musicians gather to share energy, ideas and inspiration.

A distinct duality is mirrored in Ada's life and music – a deep sensitivity that allows her to channel pain and experiences into her own original music.

As her song "Perfectly Imperfect" expresses, "I'm learning to like myself just the way I am/I'm learning to love myself in all the ways I can."

For Ada, opportunities and gratitude are essential themes. "I'm grateful to my parents for immigrating to this country, and for giving me a musical education," she says, "and I'm eternally grateful to Berklee College of Music for the scholarship and opportunity to develop as an artist. My dream is to help and inspire people through love and the universal language of music."

Thankful to be living my dream.
What I Play
Our Family
Stay in Touch
Sign up to receive news, updates, and product information about Eastman