My Eastman 701 Series+ violin has become my most valuable artistic tool: warm, rich, full bodied acoustic tone, plus a state-of-the-art electronic pickup system that delivers a powerful, natural sounding, full range audio response. This instrument is a magical paintbrush of music.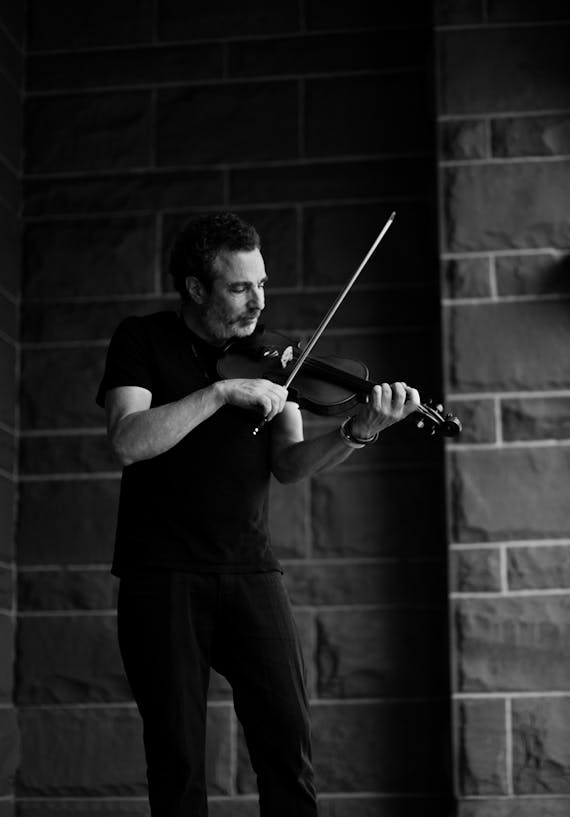 Chris Murphy
Composer, Arranger, Producer
Chris Murphy is a musician with a distinct talent; the ability to nurture and maintain his many music identities that include that of singer/songwriter (over 400 songs), multi-instrumentalist (violin, electronic violin, guitarist, mandolin, dobro, percussion and also Turkish instruments) composer, arranger, and producer. Even more daunting is his chameleon-like music persona that embodies a wide range of musical styles and influences from jazz, blues, country, classical, ethnic and electronic, resulting in a distinctly original and powerful voice. He is that rare breed of musician that creates and performs in a multitude of music worlds with ease.
Cyrus Rhodes of No Depression considers Murphy to be "one of the best songwriters in popular music unjustly flying under the radar." His fearless exploration of multiple genres brings to mind artists such as Ry Cooder, David Byrne, Tom Waits, Peter Gabriel and Bill Frissell. Having always survived as an independent musician, he has been composing, performing, and recording his original music for 30 years: Folk, Blues, Jazz, Bluegrass, Gypsy, Swing, Celtic and other world music styles, including Industrial Mood Music EDM, and more recently Ambient (Seven Crows). He has 16 solo albums to his credit, with an additional 20 albums as a collaborative musician and producer.
Murphy's musical diversity is further reflected in his work with A Fine Frenzy, The Dandy Warhols, Sophie B. Hawkins, and Har Mar Superstar. Other impressive recording collaborations on his albums include the likes of Steve Hodges and Larry Taylor from Tom Waits' band, Nels Cline (Wilco), Mike Watt (fIREHOSE), D.J. Bonebrake and John Doe (X, The Knitters), Herb Pedersen (The Desert Rose Band), Tim O'Brien, Joachim Cooder (Buena Vista Social Club), Joey Peters (Grant Lee Buffalo), Walfredo Reyes Jr. (Santana), Michael Jerome Moore (Better Than Ezra, Richard Thompson), Trevor Hutchinson (Waterboys, Lunasa) legendary piper Patrick D'Arcy, L. Shankar (Peter Gabriel), Ted Russell Kamp (Shooter Jennings),Victoria Williams, as well as long-time associations with Nate LaPointe (Bobby Womack), Hal Cragin (Iggy Pop, Rufus Wainwright, Sarah McLachlan), and Andreas Geck (Kelly Clarkson, Brian Auger, Christina Aguilera).
Considered by some to be a modern-day troubadour and a colossus of Americana, he is an energetic force of nature combining a balance of soulful melodies with innovative approaches, yet keeping his music always accessible to his audience. A lover of travel and live performance, Chris has performed in over 40 US states, England, Ireland and The Netherlands. He is a graduate of New England Conservatory of Music.
What I Play
Our Family
Stay in Touch
Sign up to receive news, updates, and product information about Eastman