Astonishlingly beautiful tone when played acoustically as well as once plugged in, the VL405+ is beautifully designed. It's comfortable to play and a wonderful solution for artists like myself, who prefer to control their tone while seeking more volume while performing acoustically. For this reason, I also highly recommend this instrument to string teachers who work with large groups.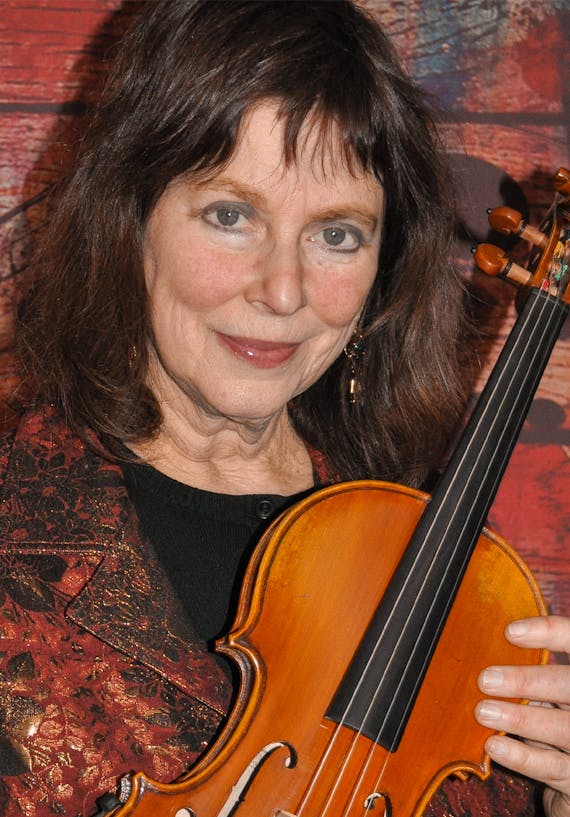 Julie Lyonn Lieberman
Performer, Composer, Recording Artist, and Educator
JULIE LYONN LIEBERMAN has helped develop the multi-style string field over the last forty+ years through her work as an educator, author, radio producer, composer, writer, recording artist, and performer. She has performed on and off Broadway as well as in folk and jazz clubs throughout the United States, and Canada, France and Scotland.

She is the recipient of the 2014 American String Teachers Association (ASTA) Kudos Award, over two-dozen ASCAP Plus Awards, eight Meet the Composer awards and three American String Teachers Association's National Citation for Leadership & Merit awards. She produced four American Jazz String Summits in the 1980s and 1990s featuring many of the top improvising string players in America, and co-produced three alternative string festivals within American String Teachers Conference in 2003, 2004, and 2005, serving as the chair for the 2004 component.

Julie Lyonn Lieberman has presented master classes for ASTA, European String Teachers Association (ESTA), National Association for Music Education (NAfME), International Association for Jazz Eduators (IAJE), the Suzuki Institute, National String Workshop, National Orchestra Festival, International String Workshop, National Young Audiences, and the Carnegie Hall LinkUp Program. She's been on faculty as an adjunct at The Juilliard School, The New School for Jazz and Contemporary Music, William Paterson College Jazz Department, Manhattan School of Music, New York University's Gallatin Division, VanderCook College of Music, and Mercy College. In addition, she has worked as a guest clinician at the Eastman School of Music, Stanford Jazz Workshop, and many other schools and program across the US, in Canada, and abroad.

She is the author of twelve music books and her memoir, The Roaring Brook Fiddler, five instructional music videos, seven hours of programming for National Public Radio, over two dozen string orchestra scores published by Alfred, Kendor and Carl Fischer, as well as over fifty articles for music magazines. Julie Lyonn Lieberman is a D'Addario Elite Clinician and an NS Design Performance Artist.
What I Play
Our Family
Stay in Touch
Sign up to receive news, updates, and product information about Eastman